Makyol in Brief
Rightfully regarded as one of Turkey's leading contractor firms, Makyol is active in the areas of:
Heavy construction & infrastructure (highways, airports, dams, tunnels, bridges, etc)
Commercial real estate
Housing development
Tourism investments
Makyol blends close to half a century of knowledge and experience and business acumen with its strong technical competencies to come up with imaginative solutions and create long-term relationships and added value.
A service philosophy that is focused on customer satisfaction is what distinguishes Makyol from its competitors. Makyol is a first-class contracting firm that is as much preferred in the international arena as it is in its own national market.
Makyol is successfully conducting many joint venture projects both in Turkey and abroad with the sector's leading Turkish and international firms.
The roadmap of Makyol's sustainable growth is defined by its approaches to management, its quality philosophy, its strong values, its sense of social responsibility, its commitment to ethical values, and the importance that it gives to the environment and to occupational health and safety as well as by its exemplary behavior on all such issues.
Makyol will continue to build that which is right and beautiful for all humanity.
Mission, Vision, and Factors for Success
Mission
Vision
Factors for success
Message from the Honorary Founding President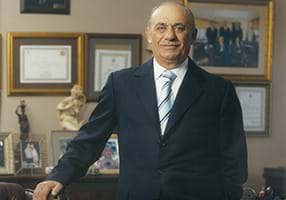 The progress that we have made and the projects that we have undertaken in recent years in the international construction industry have played a great role in further enhancing Makyol's prestige in the international arena.
Our shared objectives in production
Everything that Makyol develops and produces serves the common goal of making people's lives easier, more comfortable, and more livable.
In a world that is rapidly transforming into a single, gigantic market, Makyol's fundamental objectives must be to pursue growth, to create increasingly more added value for all its stakeholders, and to be an international Turkish company that is preferred because of its:
Approach to business
High-quality services
Reliability
We make peoples' lives comfortable and easier.
Everything that Makyol develops and produces serves a common goal of making people's lives more convenient, more comfortable, and more livable. We build roads and airports that bring people together. We deliver the infrastructure through which commerce is channeled. We give life to projects that supply life-giving water and energy. We construct touristic facilities that make leisure time enjoyable.
We are carrying our successes in the national market into the international arena.
The projects that we have currently undertaken in Morocco, Iraq, Azerbaijan, and Algeria are the most recent examples of the efforts we are making towards our goal of making Makyol's name more familiar in the international arena and playing a part in even more major international projects. I would like to thank all the team members who have contributed to this result.
Our corporate structure is strong and deep-rooted.
We have nearly half a century of corporate and business experience. We take pride in having successfully completed projects that have step by step taken us closer to our fundamental objective. That pride is a shared awareness of all Makyol employees: the cement that binds together and supports their collective thinking and mode of action.
We believe firmly in our human resources, professionalism, and institutional structure. We continuously devote time, resources, and effort in order to be a Turkish company that adheres to the most current and the best practices in these areas.
As Makyol, we have a strong and well-knitted technical and management team. We also know that the multi-dimensional satisfaction of our human resources is of great importance from the standpoint of team continuity and we take great pains to ensure that policies capable of achieving that satisfaction are implemented throughout our company.
We believe that our country's future is bright.
Turkey is situated at the center of a region that is today undergoing rapid, dramatic changes. We believe and have faith in our country and in its people.
We know that Turkey is blessed with tremendous economic potential. We also foresee that our country's hinterland will be offering highly attractive opportunities for us in the very near future.
Only companies like Makyol whose roots run deep and whose strategies and business approaches are well-defined will continue to grow and produce even more in such an environment.
For its own part, Makyol will continue to take advantage of growth opportunities as they arise in its national and international markets without sacrificing anything of its risk-sensitive approach to business while creating works for the benefit of people everywhere.
I take this opportunity to thank all the members of our team for their efforts towards achieving these brilliant results. I would also like to extend my gratitude to all our local and international business partners for their continuous support and confidence in us.
We invite you to share in Makyol's new ventures and successes.
Saffet Çebi
Honorary Founding President
Message From The Chairman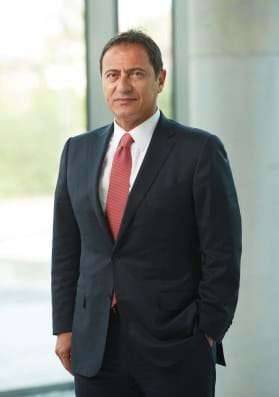 Carrying its vast knowledge and experience, strong corporate culture, advanced technological infrastructure, management competencies, a business portfolio that expands year after year, and thriving business partnerships into the international arena, Makyol continues to be a preferred business partner around the world.
Our difference is the key of our success
Our company distinguishes itself by virtue of a sophisticated approach to corporate governance, a solid financial structure, and the youngest equipment park in the sector. Makyol is regarded as a strong and high-priority business partner that is highly respected in international business circles.
Providing people with a living environment that is more comfortable, more modern, and more secure makes up the core of Makyol's business approach. Since the day it was founded, our company has never deviated from this fundamental approach to business and it has undertaken and successfully completed countless projects on every scale that have contributed towards raising the quality of life of millions of people.
In line with its strategic goals, Makyol is making itself known not just in the contractor services projects that make up its core business activity but also by means of ventures that it is undertaking in other business lines in which it sees growth potential such as real estate development, port and marina operation, housing construction, and tourism.
The balanced and multidimensional development that we are achieving in our business lines will further strengthen our income base and consequently our financial structure as well. Regarded as an exemplary company in both its national and international markets, Makyol will continue to uphold this reputation in the years ahead while further building up the distinguished position that it enjoys in the business lines in which it offers service.
The secret of our success
Distinguished in its sector and with a strong competitive edge, Makyol is a company that is admired. Blending three generations of business experience under the management of the best professionals in the business, our company stands out by virtue of a sophisticated corporate governance approach, its streamlined organization, a solid financial structure, and the youngest equipment park in the sector. Makyol is regarded as a strong and high-priority business partner that is as much respected in international business circles as it is in its own national market.
The elements of our strength
Professional management team and human resources
An equipment park regarded as "the youngest" and most advanced in its sector
A sound financial structure
Skill in making use of the newest information technologies and construction techniques
A straightforward and transparent business approach that is based on global standards
People and environmentally-sensitive policies in respect of quality, environment, and safety.
These strengths not only provide us with the energy we need to power Makyol's accelerating growth but are also the guarantee of our continued corporate existence.
Continuing to strive for a more livable world...
As a company that is creative, productive, and profitable, we continue to strive with all our might to build a better future. Guided by our corporate values, we move steadily forward to achieve our goals as the Makyol family. So long as we continue to increase our customers' satisfaction and our business partners trust in us, we have complete confidence in our ability to achieve even greater things.
Adnan Çebi
Chairman